Your baby might be arriving relatively soon, which is probably why you might have started thinking about setting up and furnishing the nursery. If you're thinking about using wallpapers from transforming the room, you might be feeling a little bit overwhelmed and confused by the number of options you could choose from.
This is why you might be wondering – what are some of the best nursery wallpaper ideas that I could try in 2021? Luckily for all soon-to-be-parents, the article below could help you make a decision. So, without further ado, let's take a closer look at some of the top trends that you could opt for:
1. For an Interesting Visual Effect: Cartoon Animals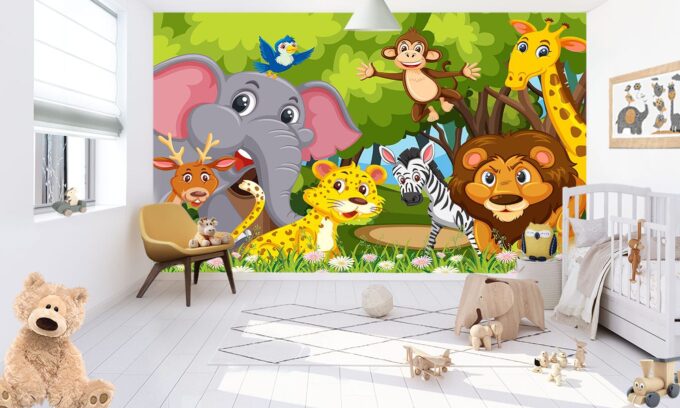 If you're thinking about purchasing furniture in one hue and a brighter tone, one of the first options that you could consider purchasing is a cartoon animal wallpaper. Besides producing a beautiful and colorful effect for your infant, it will also make the area more interesting and fun. It is also gender-neutral, so, if you don't want to reveal the gender of your baby before it arrives, this might be a suitable option for you.
2. For The Dreamy Effect: Space, Planets, And Astronauts
You might be expecting a baby boy, and if so, you can choose to purchase a space-themed wallpaper that will produce a soothing and stunning effect in the nursery. There is a wide range of designs that you could choose from, all of which feature different planets, comets, and astronauts. A lot of individuals love that this option features a lot of details, mostly because they don't have to add a lot of furniture and decorations to the room when they first bring their newborn home.
3. For The Girly Effect: A Floral Theme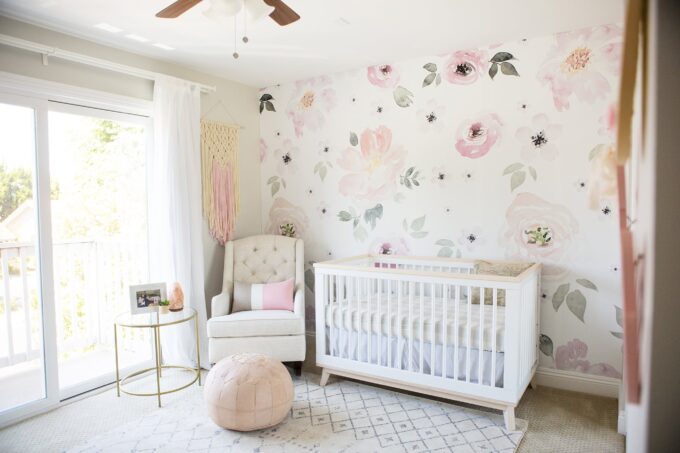 The floral pattern – which is one of the most loved and popular design trends out there – is also a common feature in nurseries. Depending on your preferences, there is a wide range of floral wallpapers, which means that there are a lot of options that you could choose from – you can view more here and find the ones you like the best. The best thing about it? Well, you could use it for a very long time, meaning that they could stay in the area even when your baby girl grows up.
4. For The Adventurous: A Map With Colorful Highlights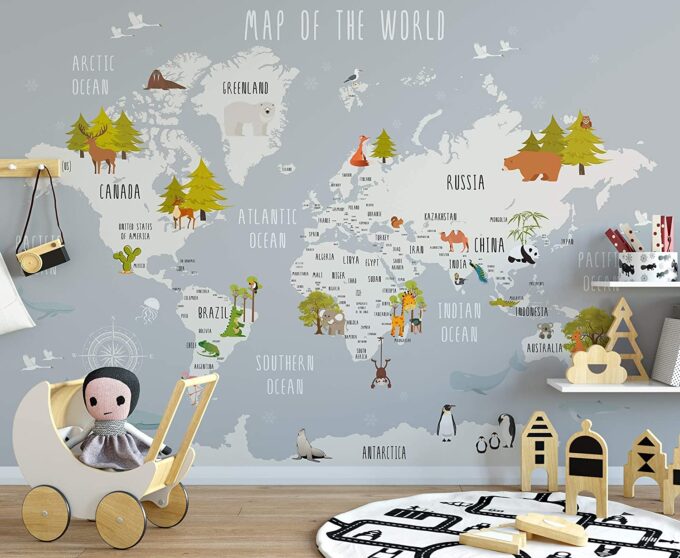 There is a wide range of map wallpapers that you could choose from, meaning that you could find an option that will suit your requirements. One of the most interesting things about this option is that it'll make your kid curious as it starts growing, hence, you might want to be prepared when they start asking a lot of questions about it. If you desire to make the area brighter and more open, you might want to opt for a design that features a brighter background.
5. For The Gentle Effect: Clouds With Small Flowers/Leaves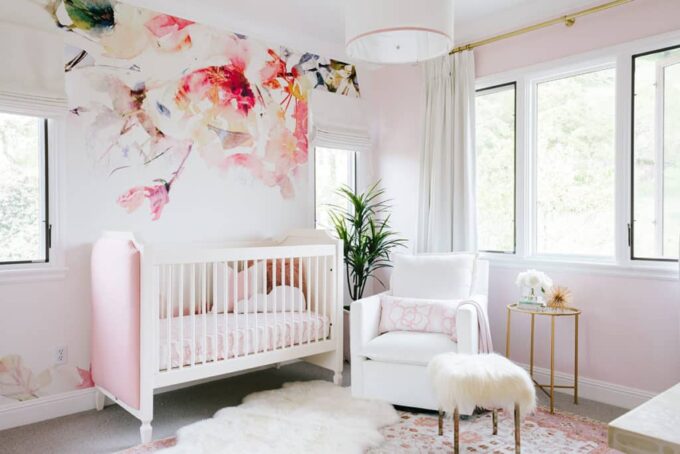 If you wish to produce a gentle and soothing effect in your nursery, you could choose to purchase wallpapers that feature clouds with tangled flowers and/or leaves. The patterned design is usually in pastel colors, something that'll be soothing for both you and the baby. Keep in mind, they do provide a vintage feel and look, which is why it works best with furniture that is in a single color such as white or light brown.
6. For a Colorful Effect: Rainbows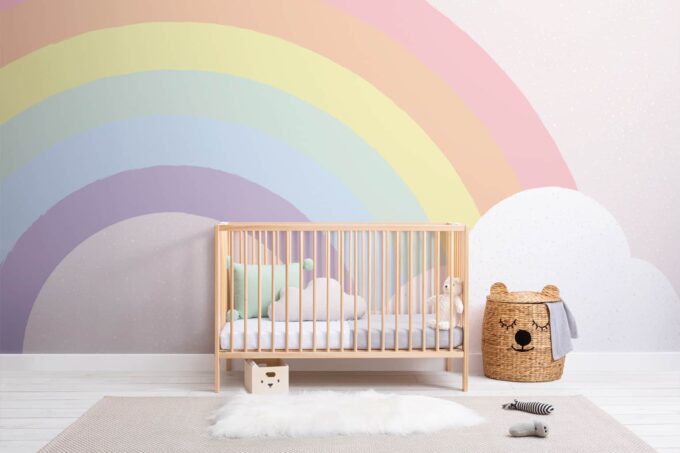 Almost everyone likes rainbows and if you wish to create a colorful and vibrant look in the nursery, you could choose to use a rainbow design. Besides providing you with a lively effect, there are various color combos that you could find available on the market, which means that you could find something that suits the furniture of the area. Keep in mind, you might want to go easy with some other decorations, mostly because the design will be colorful enough.
7. For a Fresh And Cool Effect: Snowy Landscapes
If you're going for something minimalistic, yet incredibly cute and fun, you might want to opt for a snowy landscape wallpaper that features a lot of cute animals. It will produce a minimalistic effect, however, it will also brighten up the area and make it look more spacious. One of the main perks of choosing this sort of design is that you could use it for both genders, mostly because the design is in neutral hues.
8. For The Future Explorers: Hot Air Balloons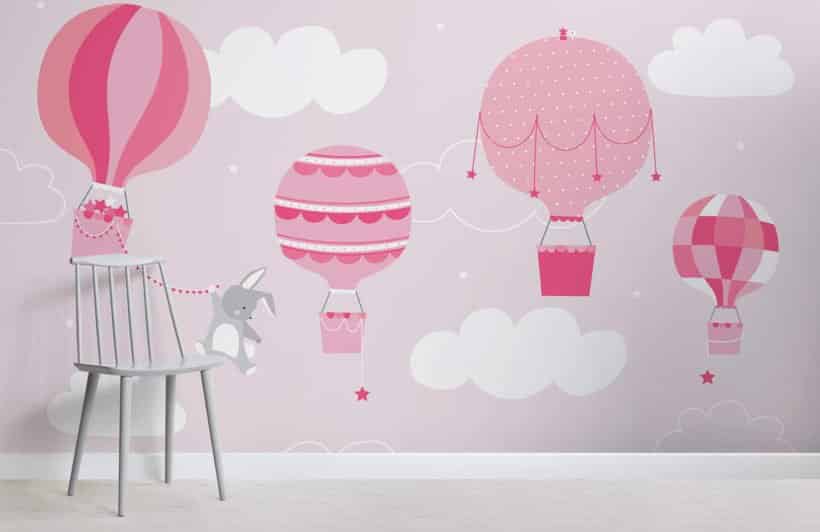 Last on our list, but equally as cute and interesting as the other options are purchasing hot air balloon wallpapers. Again, it is gender-neutral, hence, no matter if you're expecting a boy or girl, you could use it. There are various designs to choose from, meaning that you could purchase an option that features several hot air balloons or you could choose for it to feature one hot air balloon with an amazing landscape around it.
A Few Tips to Keep in Mind
Before we conclude this article, there are two tips worth mentioning, especially since it will allow you to make a better decision. In order for you to narrow down your list of potential designs, you should first think about the color you would want for your nursery. From there, you can choose something that will suit the entire concept and furniture in the room, hence, you can ensure that it doesn't feel overcrowded.
Additionally, you should know, if you choose smaller patterns, it will make the entire room look more bright and spacious, however, medium and larger patterns are also suitable for rooms that are already big. If you choose larger patterns, you should ensure that they feature lighter colors.
Conclusion
There is a wide range of wallpaper options that you could find available on the market. From the colorful rainbow patterns to the dreamy space-themed options, all the way to the gentle floral designs, you'll definitely be able to find something that suits the nursery for your newborn.
So, now that you're aware of some of the most popular nursery wallpaper trends to try in 2021, you might not want to lose any more of your time. Instead, you should go through our list above one more time and then determine which of the options suit your requirements and needs.